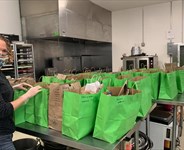 The RVAg Marketplace is convenient way to order from local farmers and producers ONLINE, with pickups at one of our area farmers market sites available five days a week. Our online Shop opens late April for delivery starting at markets the first week of May.

There is no minimum order, and customers can order weekly or NOT! Going on vacation, no problem...just don't order that week. No penalties for not ordering!

Your participation includes food aggregation, delivery, customer service, and financial management of our online platform for farmers and producers.

Choose the farmers and producers you want to order from, and pick the products you want. What you see is what you get.

Click. Pay. Pickup. It's that simple!

Take advantage of our FREE Two Week Trial by entering "TwoWeekTrial2020" when you join. This code allows customers to give our system a two week trial run at no cost (they do not have to be two consecutive weeks). Enter the code when you join and our system will remember to apply it during check-out. It is only available through April 30th, so join now before it expires! read more...