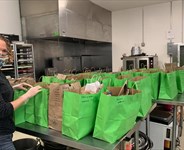 The RVAg Marketplace is convenient way to order from local farmers and producers ONLINE, with pickups at numerous sites in Central Virginia, including Goochland County, Powhatan County, Midlothian, Cumberland County, Hanover County and the City of Richmond. Our online Buying Pages open on Fridays and close on Monday nights with Curbside Delivery or Home Delivery on Wednesdays and Thursdays.

There is no minimum order, and customers can order weekly or NOT! Going on vacation, no problem...just don't order that week. No penalties for not ordering!

Your participation includes food aggregation, delivery, customer service, and financial management of our online platform for farmers and producers.

Choose the farmers and producers you want to order from, and pick the products you want. What you see is what you get.

Click. Pay. Pickup. It's that simple! read more...